St. Paul wrote the letter we call "1st Corinthians" around 54AD to the Christian believers at Corinth, in Greece. Paul had spent 18 months establishing the church there and now writes to encourage, teach, and correct the believers. George Montague, the author of a commentary on the book offers a terrific reason for studying this book.
Imagine that in a dream one night you find yourself in a parish where there are several drunks at Sunday Mass; where some members are claiming that there is no resurrection of the dead and that Jesus is not really present in the Eucharist; the parishioners are divided into cliques and factions; the president of the Altar Society is not talking to the head catechist; there is public unchallenged adultery and many marriages are in disarray; a group is dabbling in New Age spirituality; the liberals, the charismatics, and the traditionalists are all trumpeting their version of the church; and Masses are abbreviated for the sake of Sunday football—one of the many signs the parish has compromised heavily with the surrounding secular culture.
A nightmare? Not exactly. You were just experiencing a modern version of the community in Corinth. For this very reason, though, we have a lot to learn from these Corinthians, our enthusiastic but immature ancestors in the faith. The issues Paul faced with them are ones that, in one form or another, the church still struggles with today. Though Paul may not have thought so, we can be grateful that the Corinthians had so many problems because from the Apostle's treatment of them, we can glean wisdom in dealing with ours.
Attend either the morning or evening session each Tuesday. Each group alternates between reflecting on questions about the upcoming chapter and presentations by Fr. Kevin. Remember, it is not necessary to commit to the entire study. Join us whenever you are able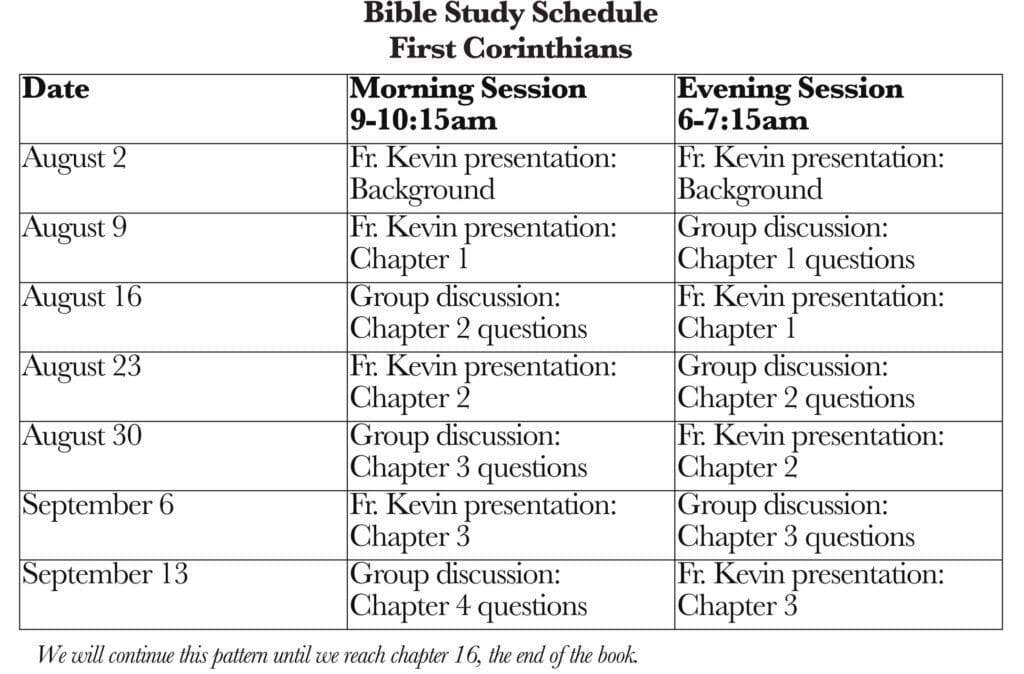 P.S. Please do not feel intimidated about studying the Bible or joining this study. Studies like this are good for the beginner as well as someone who has done a previous study. P.S.S. Got a question? Email Father Kevin (frkevinyarnell@gmail.com)
Our Bible Study is starting First Corinthians!
was last modified:
August 4th, 2022
by