For many of us celebrating Holy Week while being "Safer at Home" will feel odd (weird, actually!) But that's no reason not to do our best. In fact, I think we can make this the Best Holy Week Ever!
On this page you'll find our schedule of liturgies and resources to help you get the most out of them. And don't forget FORMED.ORG – a place to watch great videos including many on Holy Week and our Lord's passion.
I look forward to "seeing" you at our liturgies via Facebook.
Know that Fr. Vijay and I are praying for you and our community.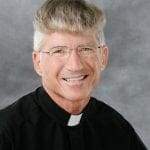 Fr. Kevin
Some encouragement from Bishop Parkes
Make this the Best Holy Week Ever
was last modified:
April 12th, 2020
by